Interview with the Chairman of FIDE Trainers' Commission Adrian Mikhalchishin
"I've seen such "coaches" who give chess boards to kids, so pupils can play, while they can simply read their newspapers"
by FIDE Press Officer Anastasiya Karlovich
Useful links:
http://trainers.fide.com/  official website of FIDE Trainers Commission
http://trainers.fide.com/surveys.html  An archive of lectures in PDF written by grandmasters and provided for others to use as teaching material.
http://trainers.fide.com/seminars.html  List of trainer seminars
Adrian Mikhalchishin, born November 18, 1954 in Lviv, is a Ukrainian chess grandmaster now playing for Slovenia. Since 2009 Adrian Mikhalchishin is the Chairman of the FIDE Trainers' Commission.
Mikhalchishin is the writer of many chess books and became famous as a coach. His first pupil was Maya Chiburdanidze, between 1980 and 1986 he was the trainer of Anatoly Karpov. He also worked with such famous Grand Masters as Susan Polgar, Alexander Beliavsky, Arkadij Naiditsch and Vassily Ivanchuk. He was the coach of the national teams of USSR, Slovenia, Poland and Netherlands. Since 2006 he is working with the women's national team in Turkey.
FIDE Trainers' Commission has been working hard for almost 20 years. Which goals have you achieved and which tasks do you see ahead?
We have achieved a lot during all those years. We have introduced trainers titles and licenses to be in accordance with demands of the IOC. We have conducted more than 100 seminars to educate trainers all over the World. We have created a library with educational materials for trainers, we have produced many books. The greatest outcome of our hard work is the Syllabus for FIDE Trainers and for schools.
It took us 10 years to bring all top trainers under our umbrella. It was not so easy at the start, as it was difficult to convince trainers to come together in order protect trainers' rights during some competitions. Now trainers understand the value of licences – they can be present in playing area during FIDE competitions, some of them can get free accommodation and they get important trainers books.
Some countries like Greece and Slovenia accepted our system and issue own Olympic Committees Certificates in accordance with our titles! it is a good start and our goal is that EU will accept FIDE Trainers System.
We also started a big project with the main goal to create FIDE Chess Academies in every country.
We can not forget about the great role in development of our Commission played by our first Chairman GM Yury Razuvaev. He is the real father of the Trainer's Commission.
Now we are dreaming to prepare books for the trainers of any level, with 50 lessons and exercises. We want our trainers to have a clear plan of lessons.
Another dream is to start online trainers seminars to teach trainers at a distance in order to help them to save money and time.
It's very important that FIDE has been supporting us for all those years and with their future support I believe we will develop really well.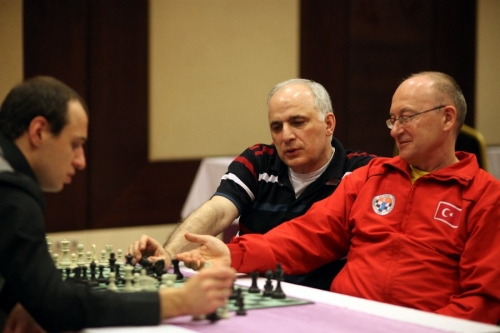 How does the work of the Commission looks like? What are the obligations of the Chairman?
We are conducting seminars [http://trainers.fide.com/seminars.html], publishing training materials [http://trainers.fide.com/surveys.html] for trainers and players every month, helping trainers with their everyday problems. We reply to emails from many trainers (daily) and explain to them how to improve their knowledge, how to join the trainers system. Sometimes we even help to solve some small conflicts between trainers and their pupils' parents!
We hold meetings of our Commission every year, but we communicate with the Board members almost everyday.
My obligations as a Chairman is to prepare and lead the strategy and developments of our Commission, to communicate with Federations and with every trainer. You can not imagine how many questions from trainers I have to answer!
At the same time it's very important for any FIDE Commission to have a great Secretary. Our trainer's community is happy to have Stratos Grivas on this position. His energy is unbelievable – he really works 24 hours per day! I personaly asked him to be careful with his health.
How do you cooperate with other Commissions?
It was an old problem of FIDE when our Commissions had lack of cooperation. Few years ago it has been changed and we have CBC, which meets yearly to coordinate Commissions activities. We have good working relations with the Arbiters Commission, WOM and Events Commission. We have to improve cooperation with the Chess in Schools commission, especially as we have great experience and training materials. We also would like to work much better with Medical Commission as they can be very helpful with modern recommendations concerning food for top and junior players. They can also advise about conditions during the tournaments.
We can help a lot to Anti-cheating Commission, as we come to many tournaments, we are always in the playing halls and know everything about the problems with cheating. Unfortunately, up to now, we were not invited to cooperate.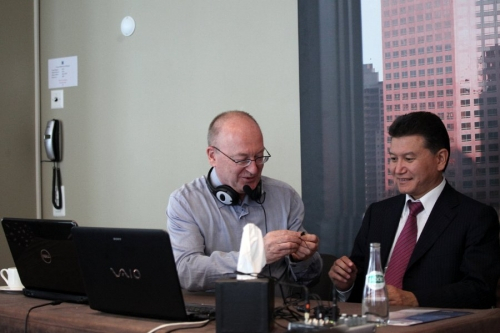 How can you estimate the role of chess trainer nowadays?
If we compare the role of trainer in such individual sports like tennis, track-and-field athletics, we will see that the role of trainer is underestimated in the chess world. Still some people understand the importance of the trainer Alexander Nikitin in the chess career of Kasparov or role of GMs Simen Agdestein and Peter Heine Nielsen in career of Carlsen. The role of trainer is not only to teach chess technique but to give a self-confidence to the pupil, to create a personality, who has no doubts about his or her abilities. Many chess players, who underestimated the role of coach, didn't show as good results in their careers as they could have expected, according to their talents. I would like to explain what I mean. Chess players still don't want to invest money in coaches. In tennis no one has any doubts it should be done this way. It's well known that the parents of Sharapova and many others sold their houses in order just to pay for the lessons and they succeeded. I'm not asking parents to sell the houses and pay to coaches whatever it cost I just want to say, that if it's clear that the chess player is talented and wants to progress it's really necessary to have a coach. I must warn that young players can't expect immediate results, after trainings with new top coach. It is well known Mark Taimanov evaluation – hard work always gives results, it's never in vain. At the same time the real results can be expected just after one year.
I know few really great chess talents, who were in the top twenty but they believed that the most important thing is to work with highly rated players and lost 5-8 years of their careers! Now they need absolutely top trainers, who will help them to return back, like doctors help their patients to come back to good shape. It will cost much more money and time.
What can be done to improve the role of chess trainers?
I always tried to convince different Presidents of Federations that chess trainers can be judged only according to results of their pupils. If pupils don't have medals or success – the trainers are not good, no matter if they have a rating of over 2600!
There are hundreds of pseudo trainers in the Internet, who present themselves as FIDE certified trainers, even they are not! We try to convince Federations to hire only FIDE trainers with licence, as it is some guarantee of the quality of their work.
We are trying to show to the chess public who are the best trainers in the World, what they are doing, their best articles and books.
For 5 years we have yearly awards for the best trainers. We are presenting them during Olympiads and FIDE Congress. Trainers appreciate this kind of highest recognition of their work.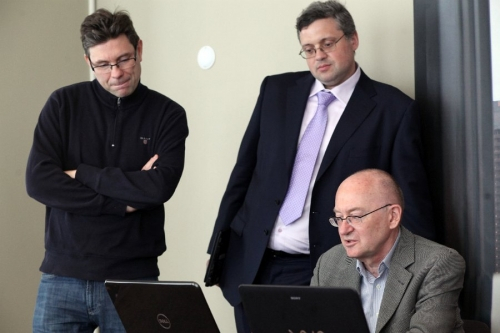 Can you give some of the examples of typical mistakes which trainers used to make?
There is a special chapter in Syllabuses, what trainers have to avoid! But it is a common story when the player with 2500 and over, without any formal pedagogical education, comes to the club and offers his trainings. At the beginning everybody is happy, but later on they realize, that the person has no idea how to teach chess!
Many trainers work without year plans, does not follow any system of teaching, don't use proper books, don't prepare for lessons, they do many mistakes. I've seen such "coaches" who give chess boards to kids, so pupils can play, while they can simply read their newspapers!
So how can the professional chess players and trainers increase their pedagogical level and get chess education?
First of all they need to have the will and the desire to study, to study most important classical games. In order to become a trainer, one must have pedagogical education and know basic things about kids psychology.
Our seminars are very useful in this regard. At the same time there are chess faculties in the Sports Universities in some former Soviet countries. They give more fundamental pedagogical education.
It's also important to love the game, but not to think about the salary only.
The great Soviet Trainer Anatoly Bykhovsky (who trained teams with Karpov, Kasparov and Kramnik) says that nowadays it is easy to study openings and endgames, as there are great books available for the chess audience. But in fact there are just few good books about the middle game, so the most important knowledge about middle game strategy one can get only from the top coaches.
Women's chess becomes more and more popular. Over the last years more official FIDE events for women were organized all around the World. The prize funds for women events increase rapidly and the category of coaches, who specialize in women chess appeared today.
Yes, it is true! FIDE Women Grand Prix Series have special importance in popularisation of Women Chess. The Women's Commission is trying to help talented girls all over the World and more girls are coming to chess nowadays. There are few top coaches, who work with women and we believe there is a lot of potential in their work.
Unfortunately we still cannot promote women chess in a decent level as we don't have real marketing managers in chess. Don't tell me that Women Magazines, perfume and clothing chains will not be interested in sponsoring clever and beautiful women!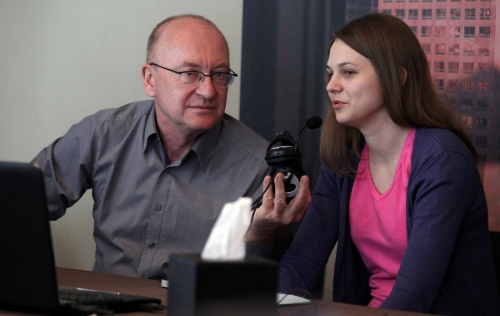 You are a countrymen with current Women's World Champion Maria Muzychuk and her sister Anna and you know both sisters very well. How can you evaluate Maria's success in Sochi? Could you expect such a great result?
Of course, nobody expected it! The sisters' trainer, famous GM Alexander Beliavsky told me, that before the Championship he could not train Maria, as she was terribly sick. Maria was not the main target for Alexander as he was training Anna mainly and Maria was like an additional person during their trainings! But it was something like Diego Maradona's "Hand of God"!
So now the Women's World Championship Match will take place in Lviv. How important is it for Ukraine?
I think it is extremely important event in the current political situation. There are first signs which shows that chess is becoming more popular in Lviv. From September 2015 the chess lessons will start in every school! We hope that chess players will get back their chess club, which was closed 10 years ago. Nowadays we have more than 20 Grandmasters in Lviv, but there is no place to hold training sessions! FIDE President Kirsan Ilyumzhinov supports this process very much.
Do you have any estimation about the possible outcome of the Women's World Championship Match? How can you describe both players and their advantages and disadvantages?
Maria is called Miss Tactics, like young Mikhail Tal, and Hou Yifan is incredibly mature chess player. I would say that she is like young Boris Spassky, an incredibly universal player. So everybody has to try to take her opponent to her own territory.
They are both very young and can improve considerably. Maria's trainer Alexander Beliavsky told her: "You'll be the real World Champion just when you'll win the match! For Maria this period of preparation for the match is crucial – she can become the great player, but she needs really to work hard, especially to study a lot of classics. Her situation reminds me the period when Tal won the match against Botvinnik at the age of 23. He was describing his feelings and said: "My head is full of sun." The same applies to Maria at the moment – she is on heaven. So, she must go down and start to work hard. Otherwise it can be over like it happened to Tal in his second match against Botvinnik.
What kind of scenario of the Match will be interesting for you?
Of course, it would be interesting to see how Hou Yifan will play in case if she is losing the match. She was always starting with the upper hand. Considering the fact that both of them will have good trainers, it will be interesting to see some novelties in the openings.
As we continued to speak about Women chess, I believe I have to ask you, as one of the most experienced trainers who used to work with many women chess players, is there any difference in approach of training when we speak about women and men chess players?
Yuriy Razuvaev, the coach of Alexandra Kosteniuk, who made her a World Champion, said that the most difficult work was to be a women coach because there is a lot of psychology. The most important task for women's coach is to prepare a women player so well that she feels confident about her preparation. If a women chess player is sure that she knows everything in the opening she can defeat anyone. I've seen many times when strong GMs, coaches or husbands of women players, were showing them difficult long variations which the poor girls were trying to learn before the game but unsuccessfully. I want to tell to all of them: "What are you doing?" It's not the way if you really want to help women players before the game. You have to show her first moves, plans, different possibilities which can happened in the game and warn her if there are some possible dangerous probabilities. In that case, a woman feels she can control situation because I believe that when they lose control they also lose self-confidence.
Then girls are always well educated and thankful to those who helped them. Unfortunately the attitude can be different when we speak about relations between junior top players and their coaches.
Don't you think that the will to control the situation during the game doesn't help women to increase their level in chess?
Women like to control everything in their lives and lives of their relatives (laughing). I don't think it's a bad quantity for women, I believe they even have to develop this quantity for chess. We win our game because we do something better than our opponent, we lose it when we do something worse than him. Our strength help us to win, our weaknesses lead us to lost positions.
What else is important in preparation for a woman player who wants to succeed in chess, apart from chess preparation?
Physical training is also a big part of success for the chess player. Sport is a great psychological preparation. Everyone needs to burn extra adrenalin in order to be able to play normally again. But not many girls are doing sports, and it is the reason that their chess abilities are decreasing after 30 years age.